Graphic- and Exhibition Design
8. Semester
Bachelorthesis

Team:
Laura Markert

Consulting:
Prof. Carl Frech
DER, DIE, DAS FREMDE
Being passionate about design means trying to find new solutions every time.
»Foreignness is not an objective characteristic of my counterpart – it is a characteristic, that I attribute to him.« The picture, we have, of the foreign is influenced by stereotypes and prejudices and often they are enhanced by media coverage. We rarely gain own, real experience with »the foreign«.

—
»Fremdheit ist keine objektive Eigenschaft meines Gegenübers – sie ist eine Eigenschaft, die ich ihm zuschreibe.« Das Bild des Fremden wird durch Stereotype und Vorurteile beeinflusst, die häufig durch die Art der medialen Berichterstattung verstärkt werden. Nur selten machen wir eigene, reale Erfahrungen mit »dem Fremden«.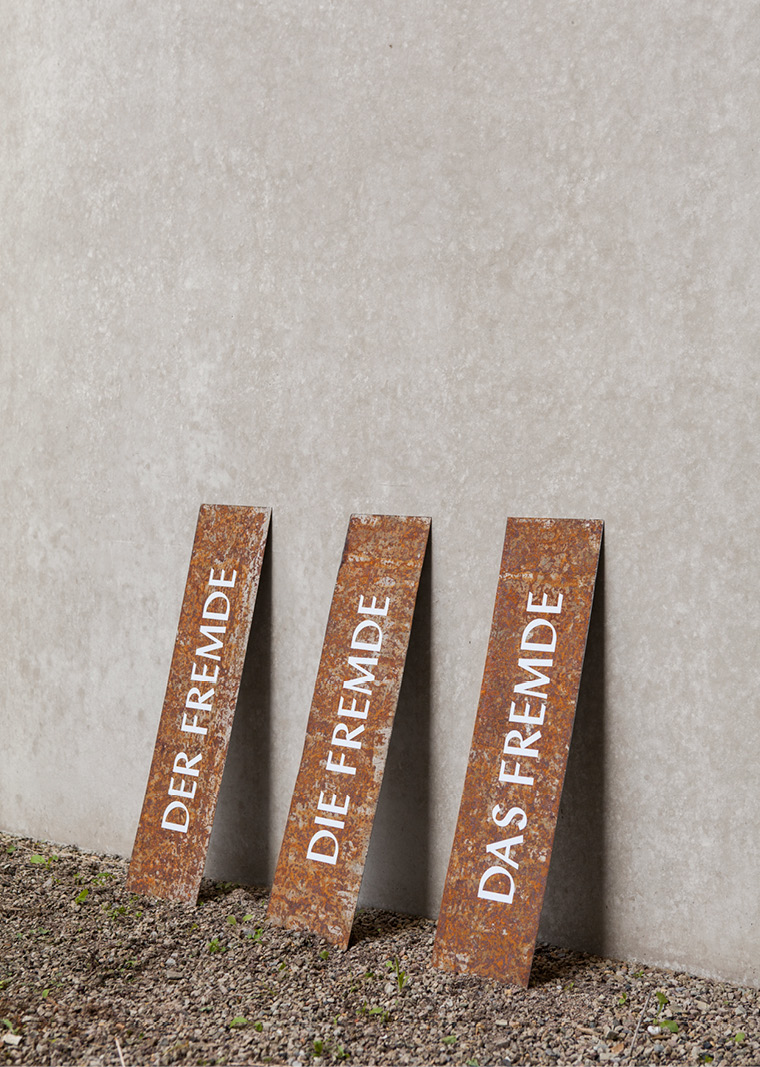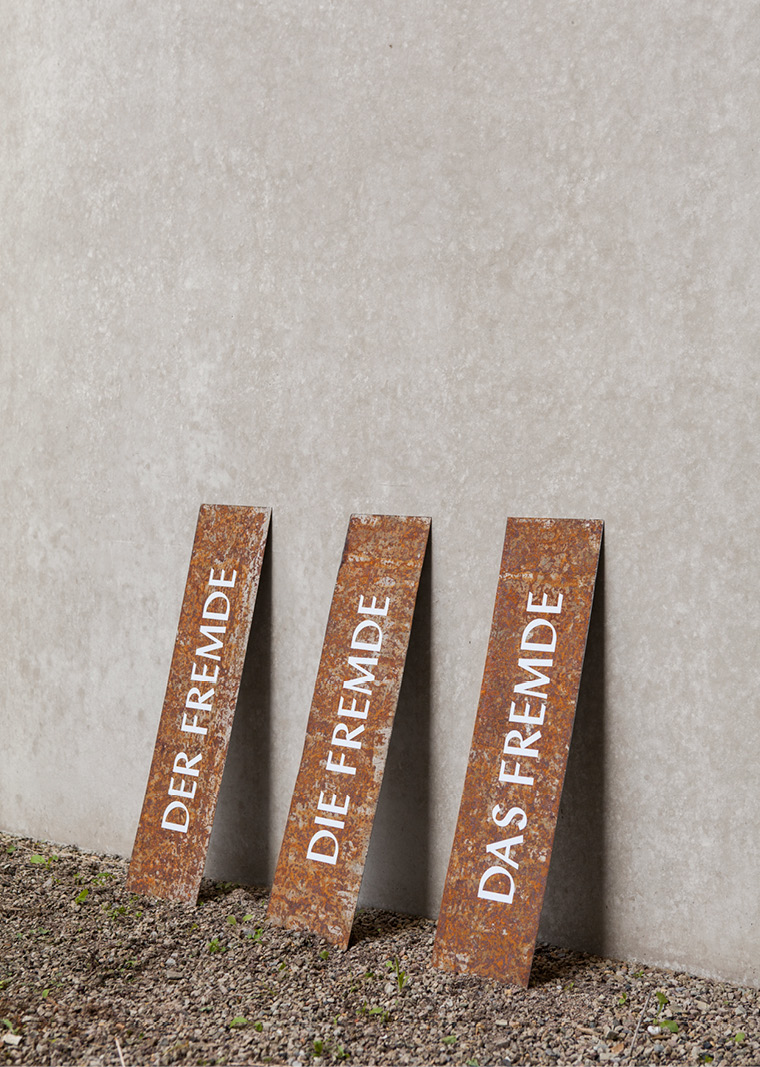 Während »Der Fremde« eher grundlegend mit Antipathie belastet ist, ist der Begriff »Die Fremde« mit Neugierde und Abenteuerlust verbunden. Doch wovor haben wir Angst, woher kommt sie und wodurch ist sie begründet? In der heutigen Welt leben mehr und mehr Menschen mit verschiedensten Einstellungen – geprägt von ihrem kulturellen Hintergrund – zusammen. Das erfordert, dass wir uns mit dem »Fremden« auseinandersetzen, uns näher an das Fremde herantrauen. Wir müssen unsere eigenen Erfahrungen machen, dem Fremden mit Faszination statt mit Furcht gegenübertreten.

—
While the »foreign person« is more likely burdened with aversion, the »foreign place« is connected to curiosity and the spirit of adventure. But where is the origin of our fear of the foreign? We live in a time, where we are all confronted with a lot of people from different cultural backgrounds. That requires our involvement with »the foreign«. We have to gain our own experience and face the foreign with fascination instead of fear.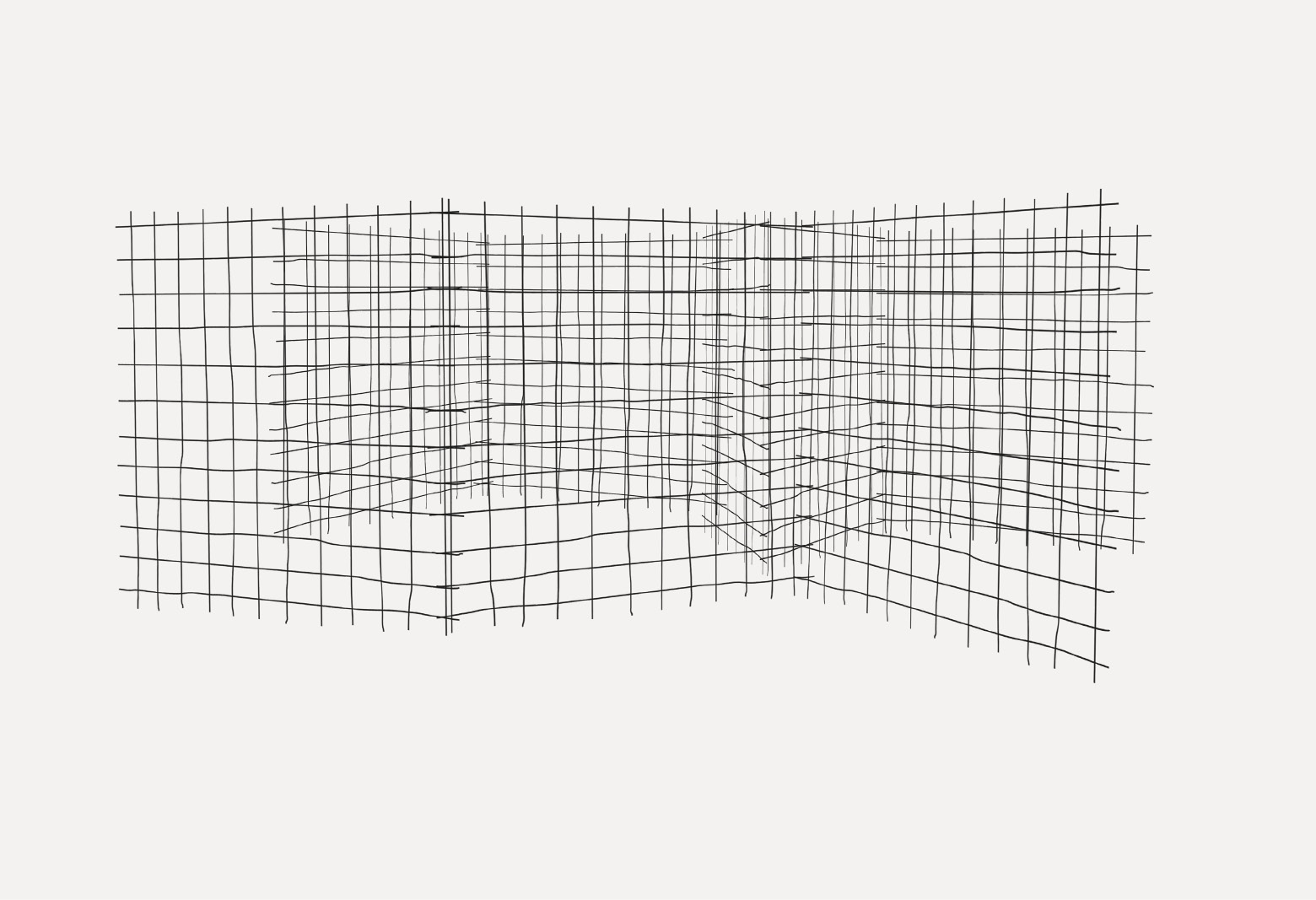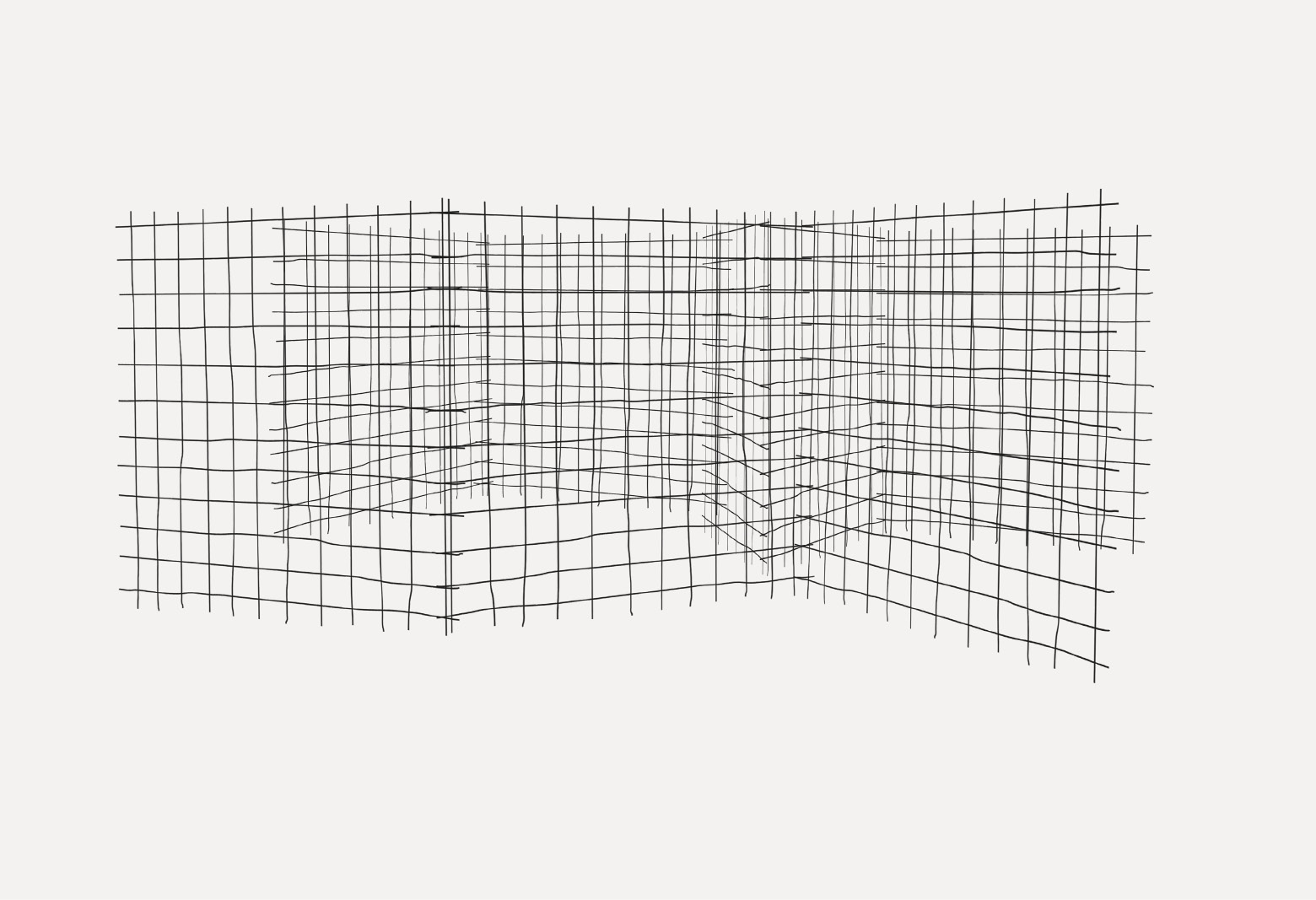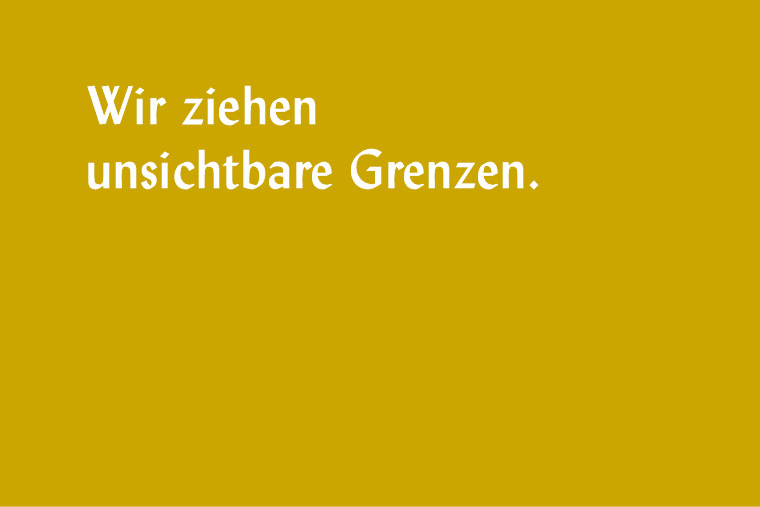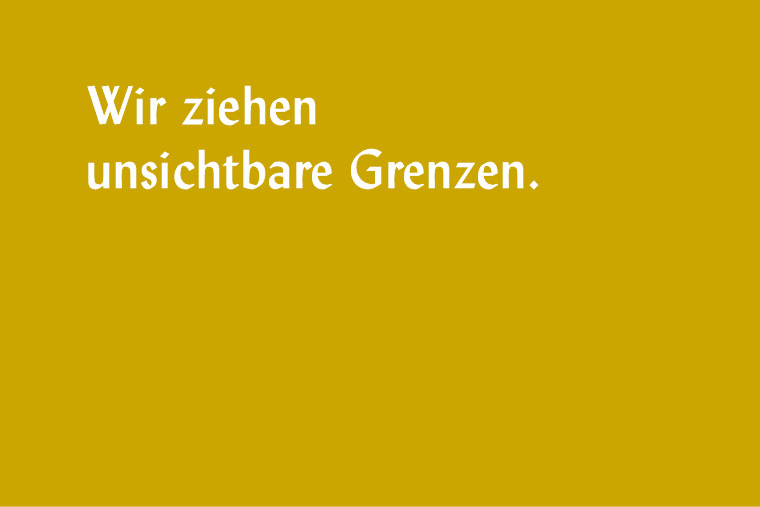 Wir grenzen das Fremde von uns ab, suchen Unterschiede und differenzieren zwischen Fremd und Eigen.

—
We are isolating the foreign from ourselves, are looking for differences and distinguish between foreign and own.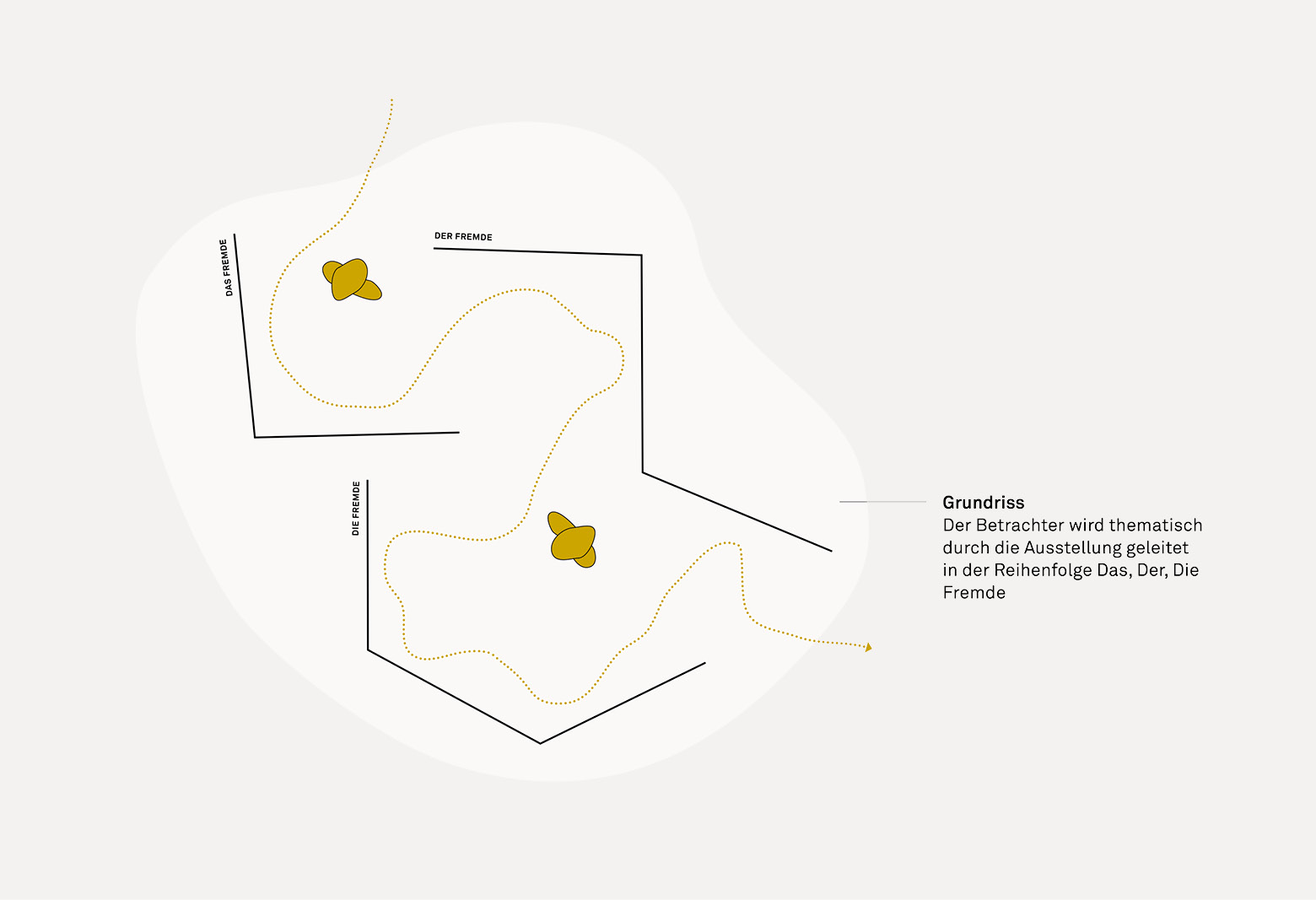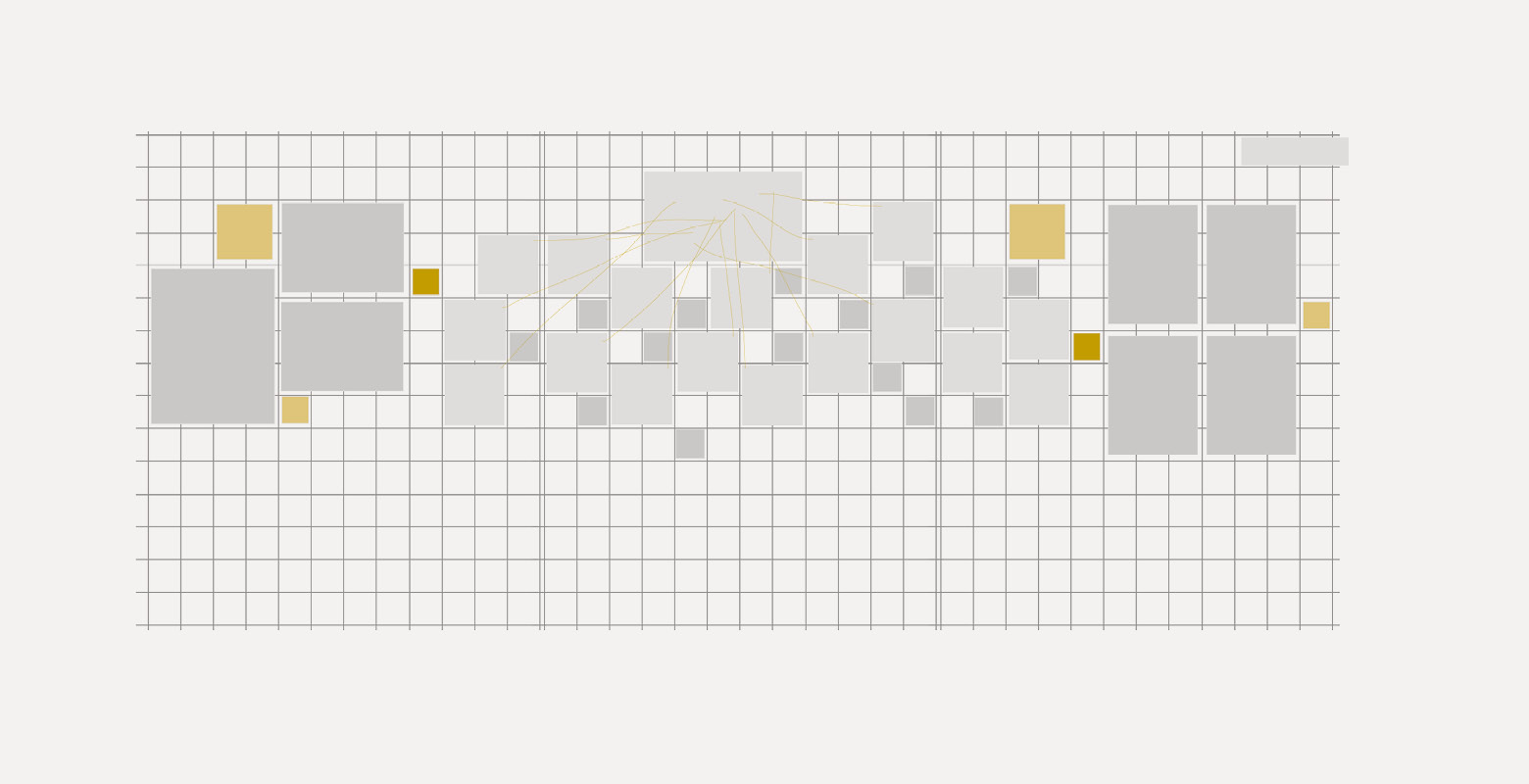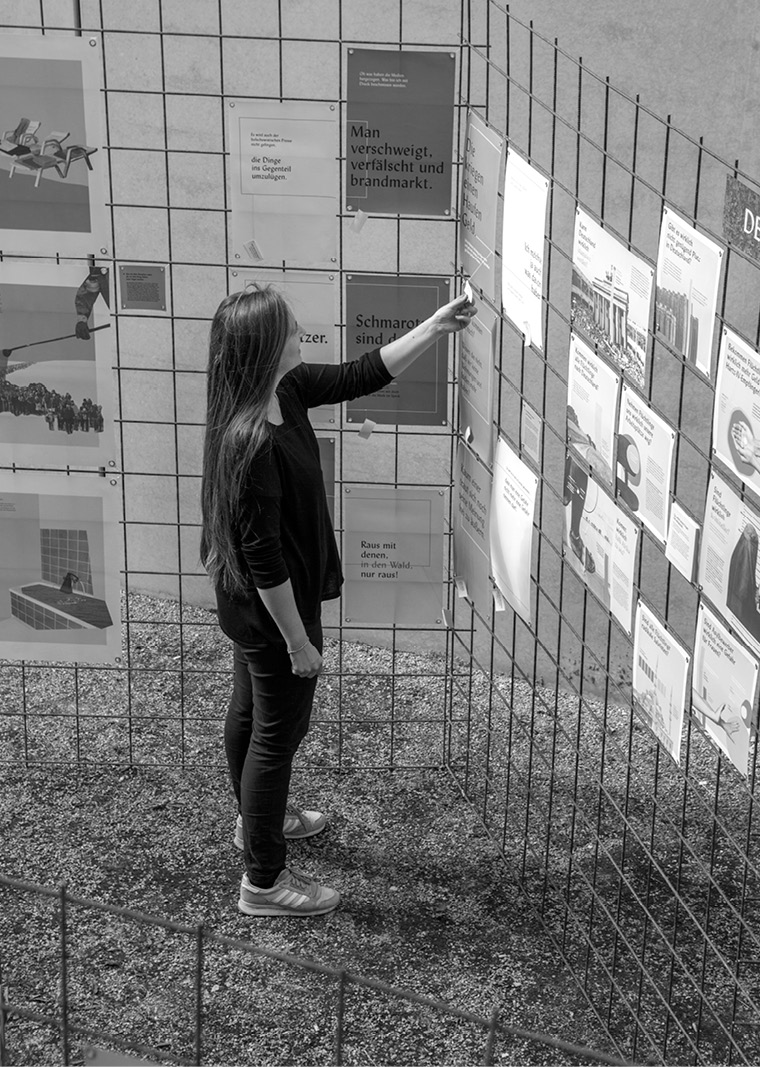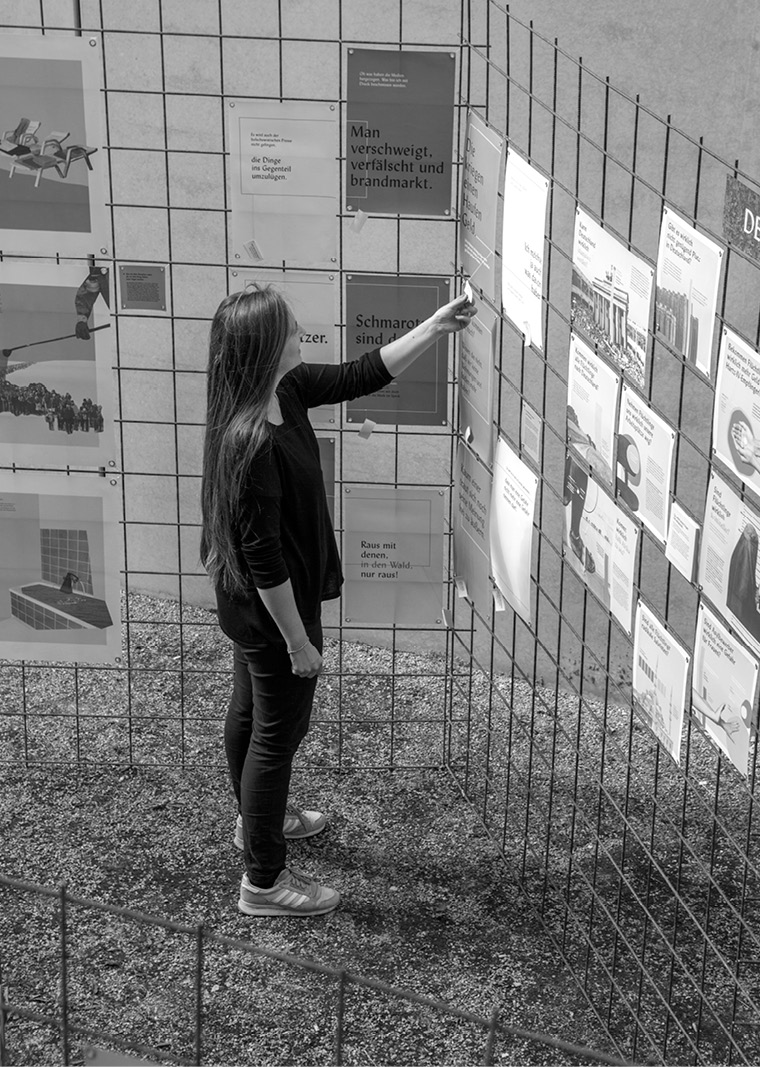 Bei einer Ausstellung – anders als bei direktem Kontakt – dient der Fremde nicht direkt als Projektionsfläche.
Der Betrachter muss sich in der Ausstellung an das Fremde heranwagen um sich den Inhalt zu Eigen machen zu können. 

–
At an exhibition – unlike direct contact – the foreign doesn't function as projection surface. The viewer has to dare the foreign in order to adopt the content.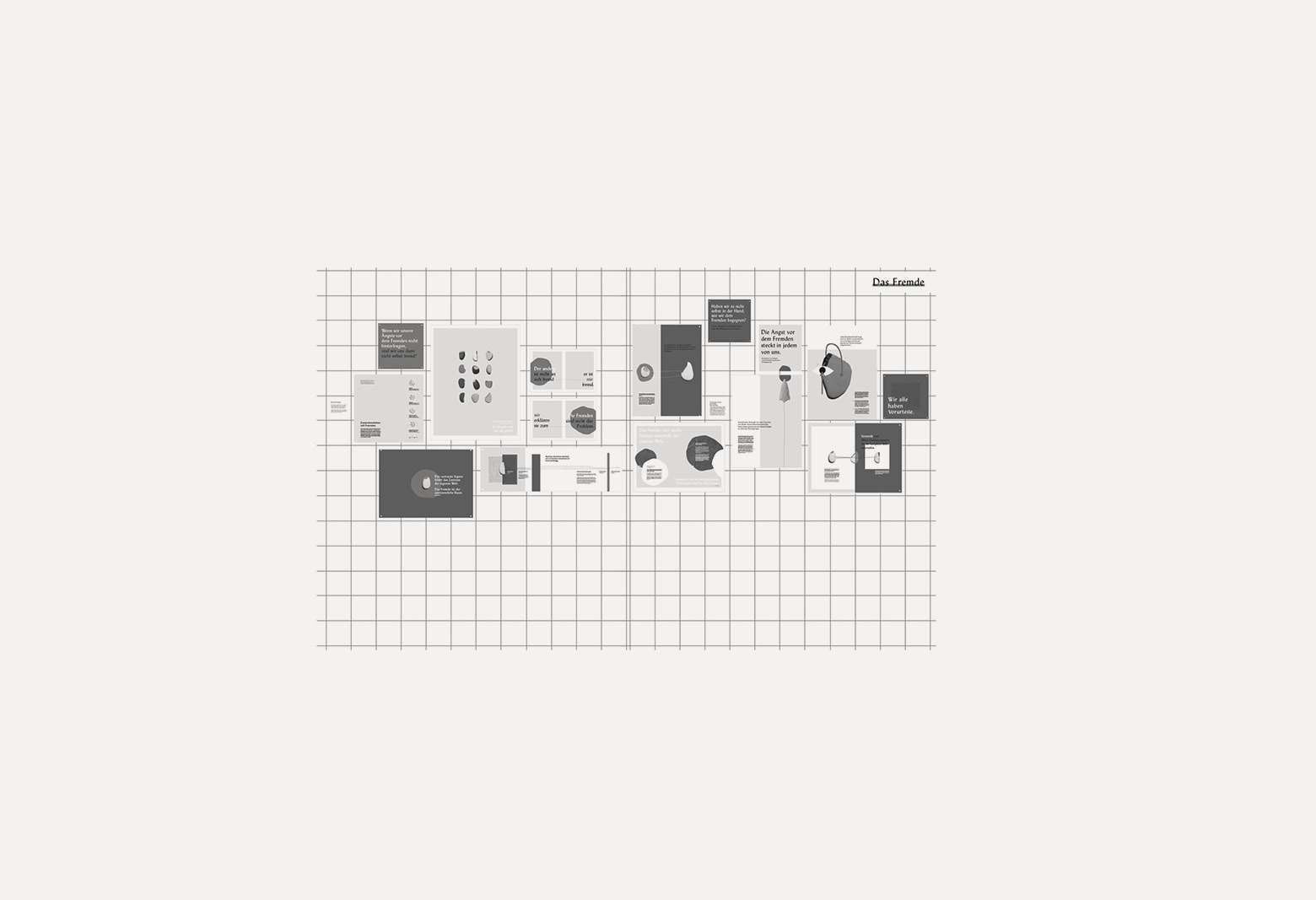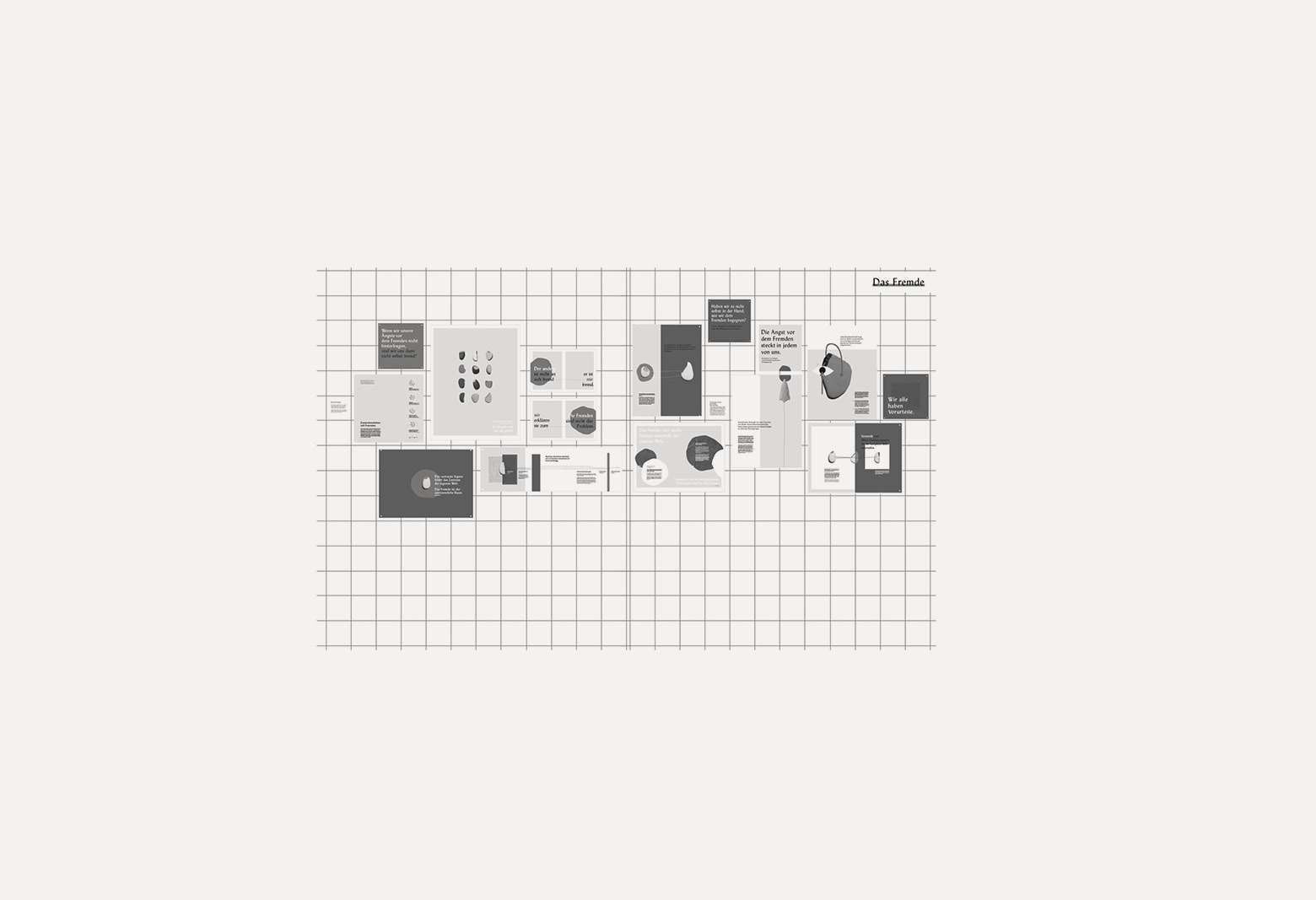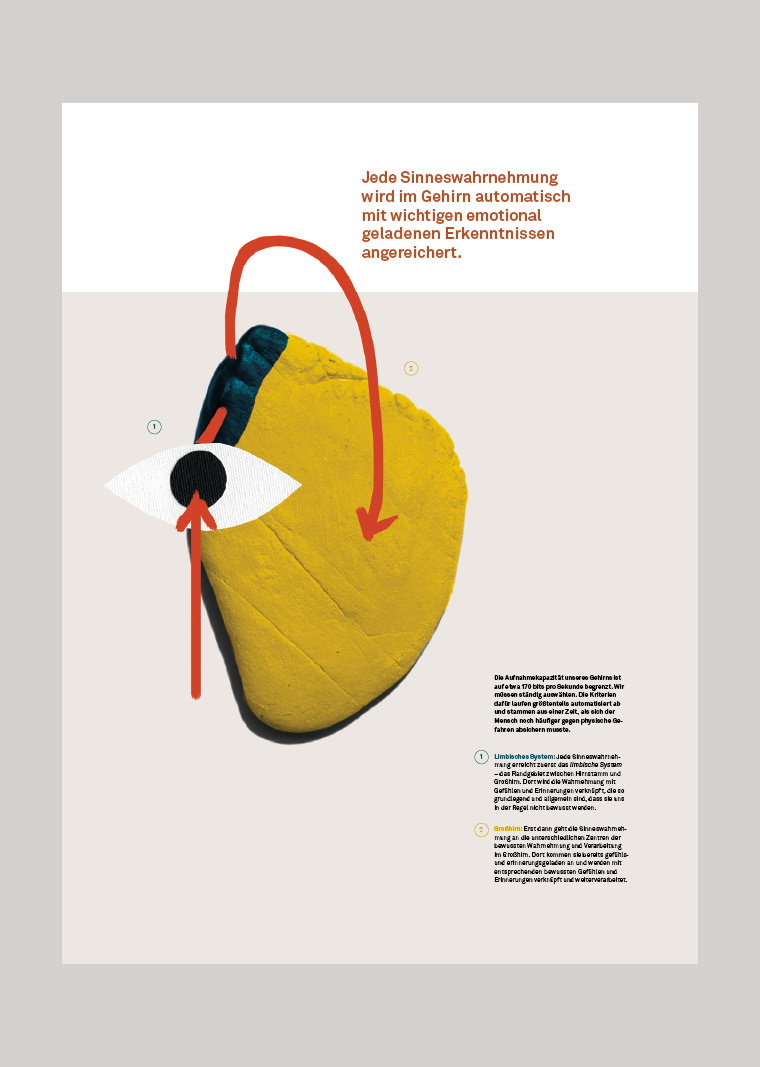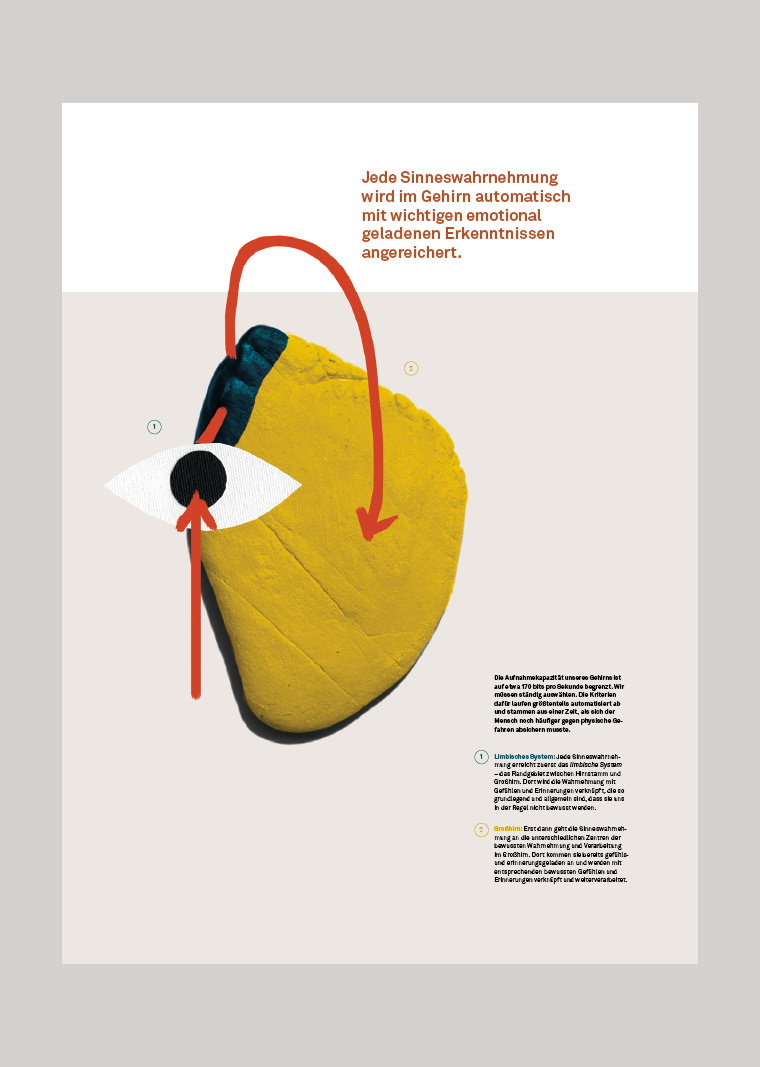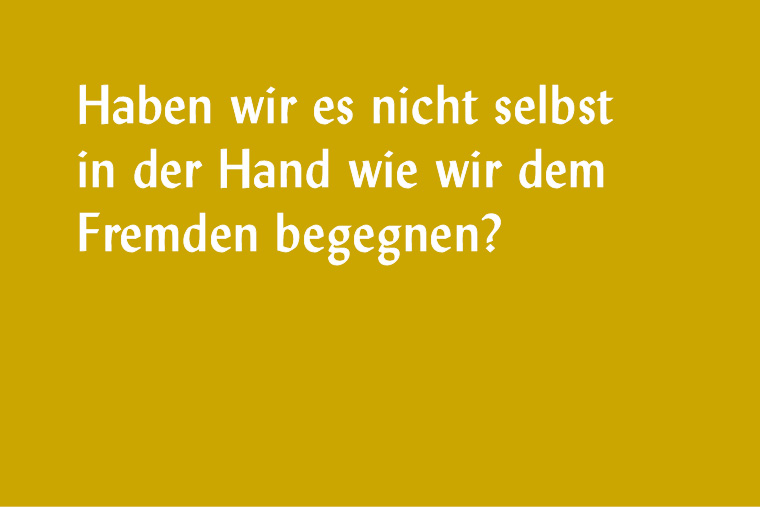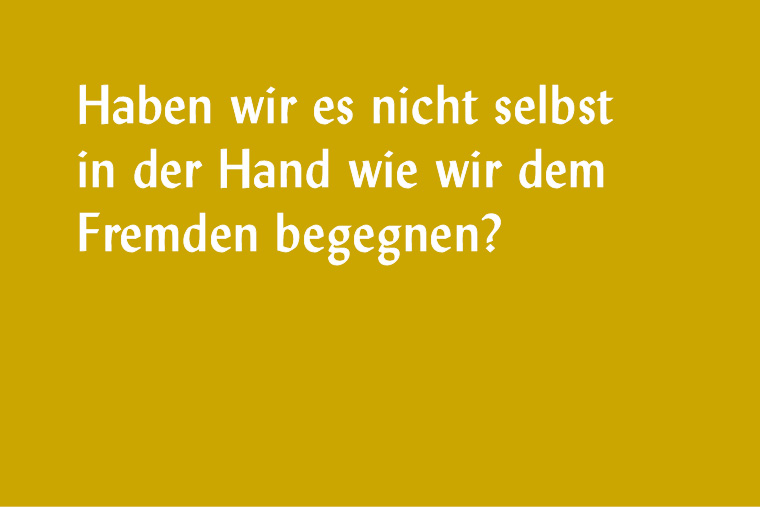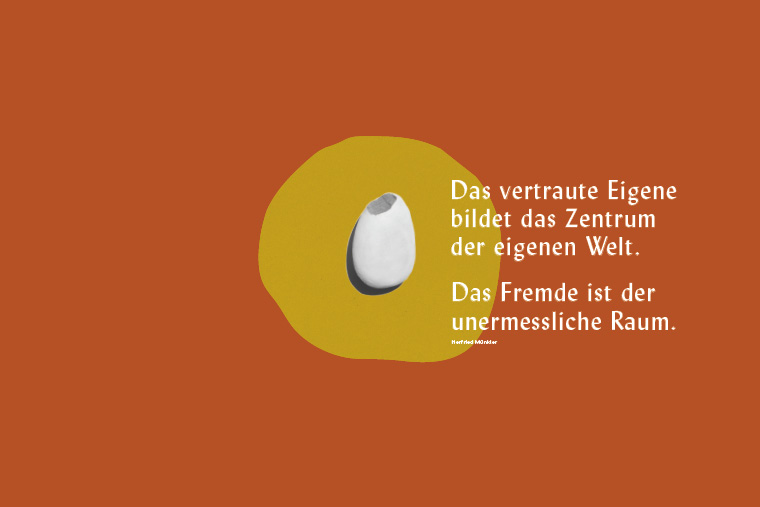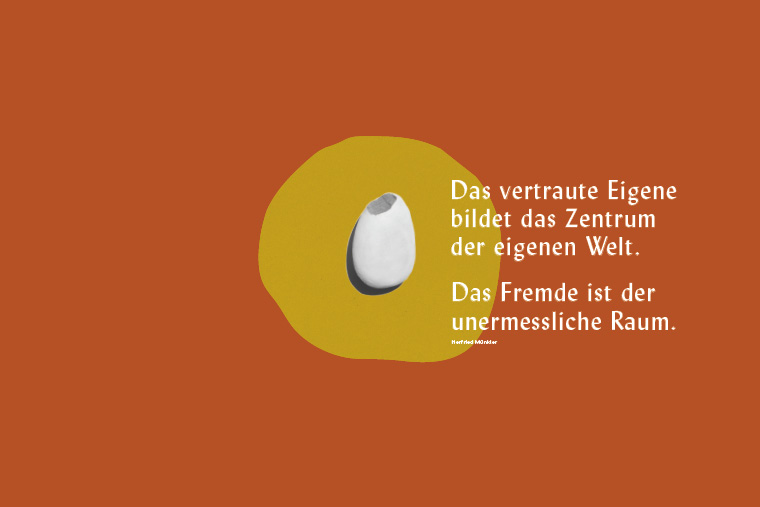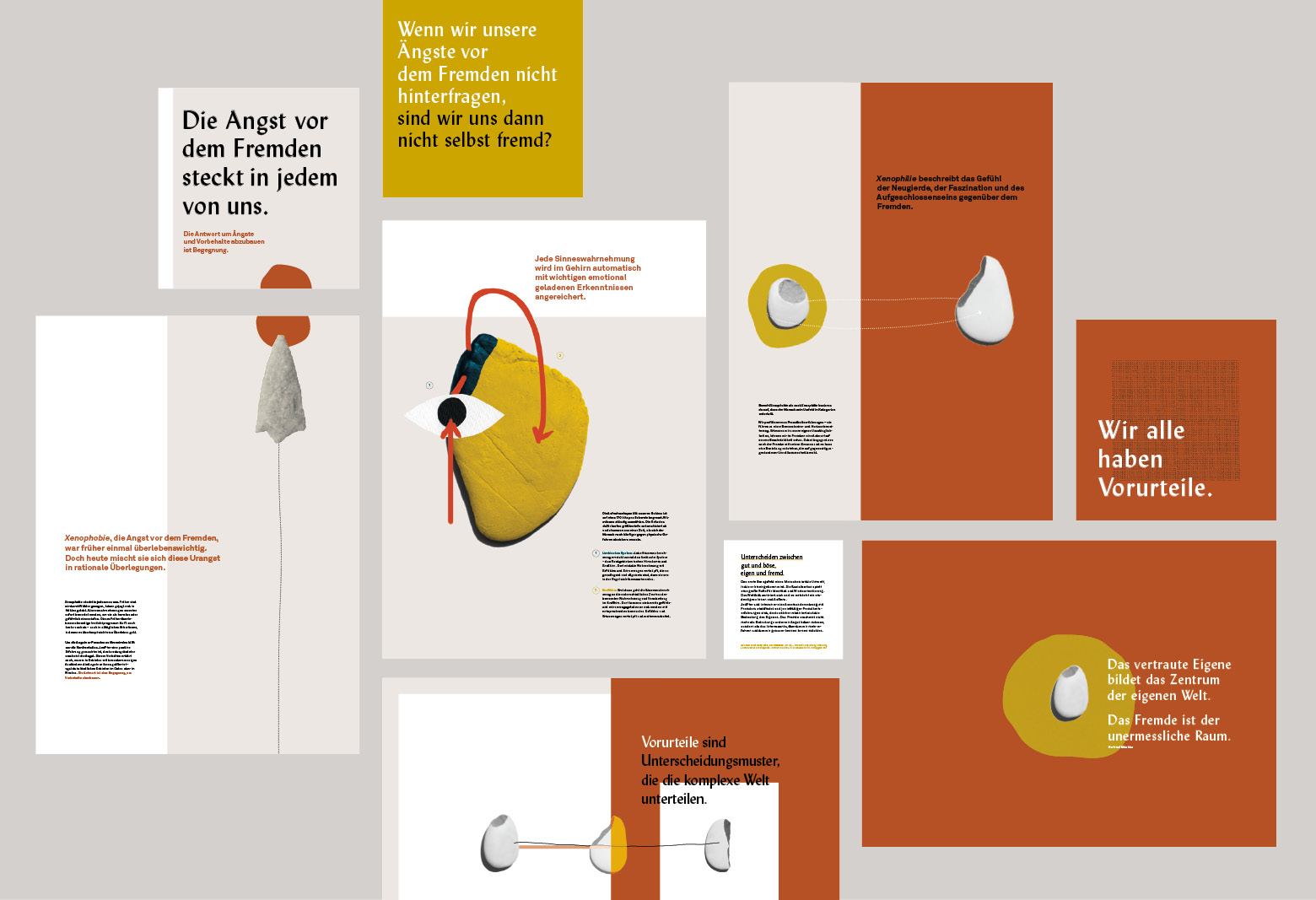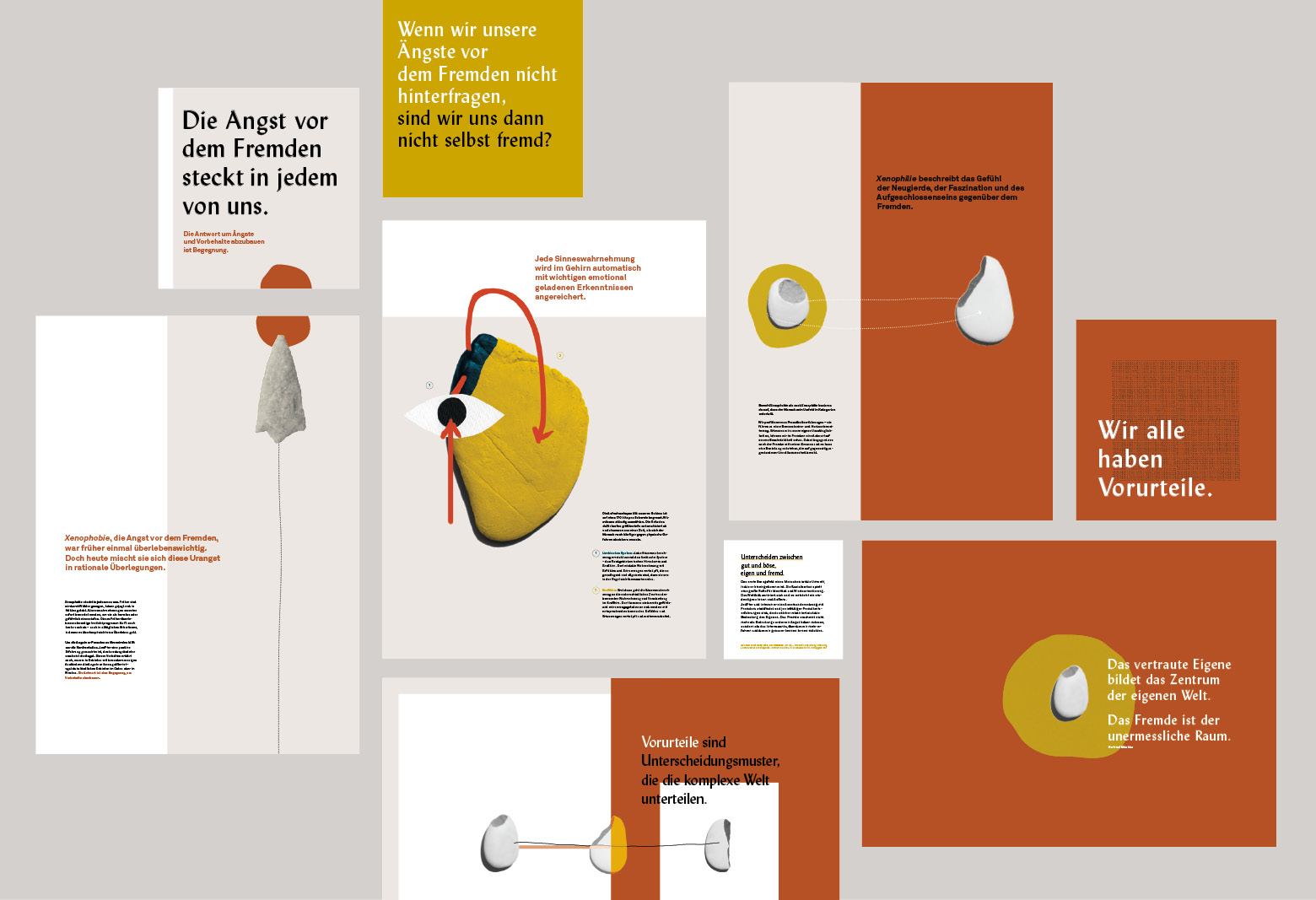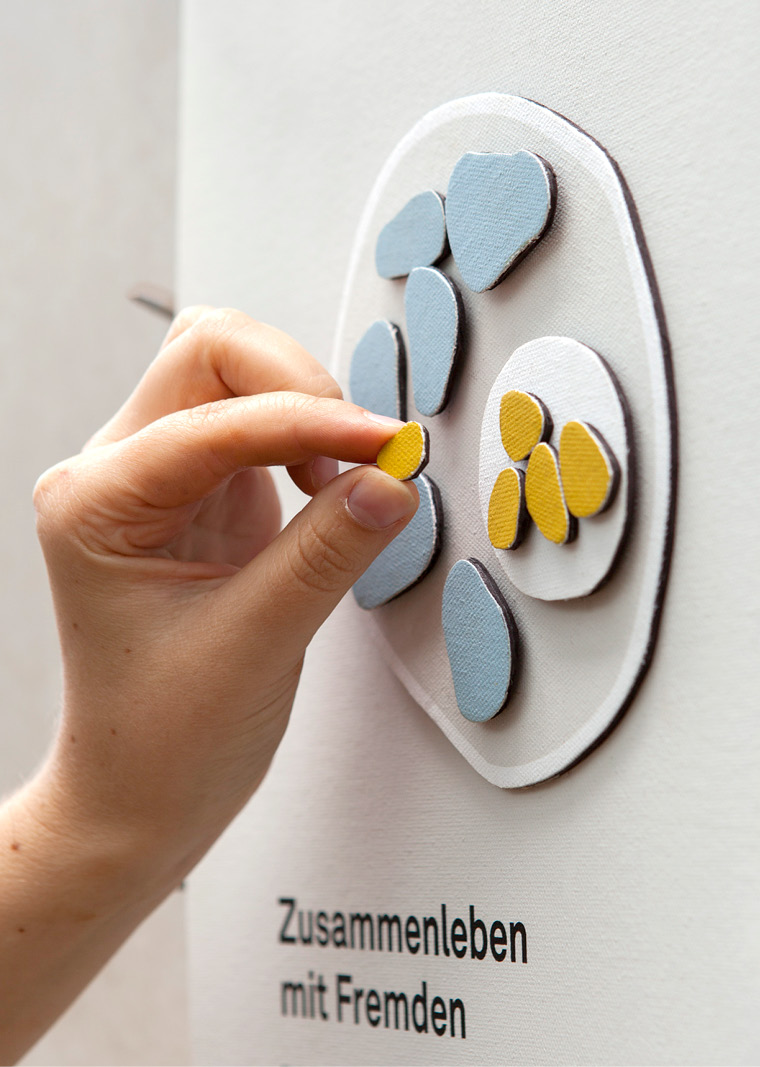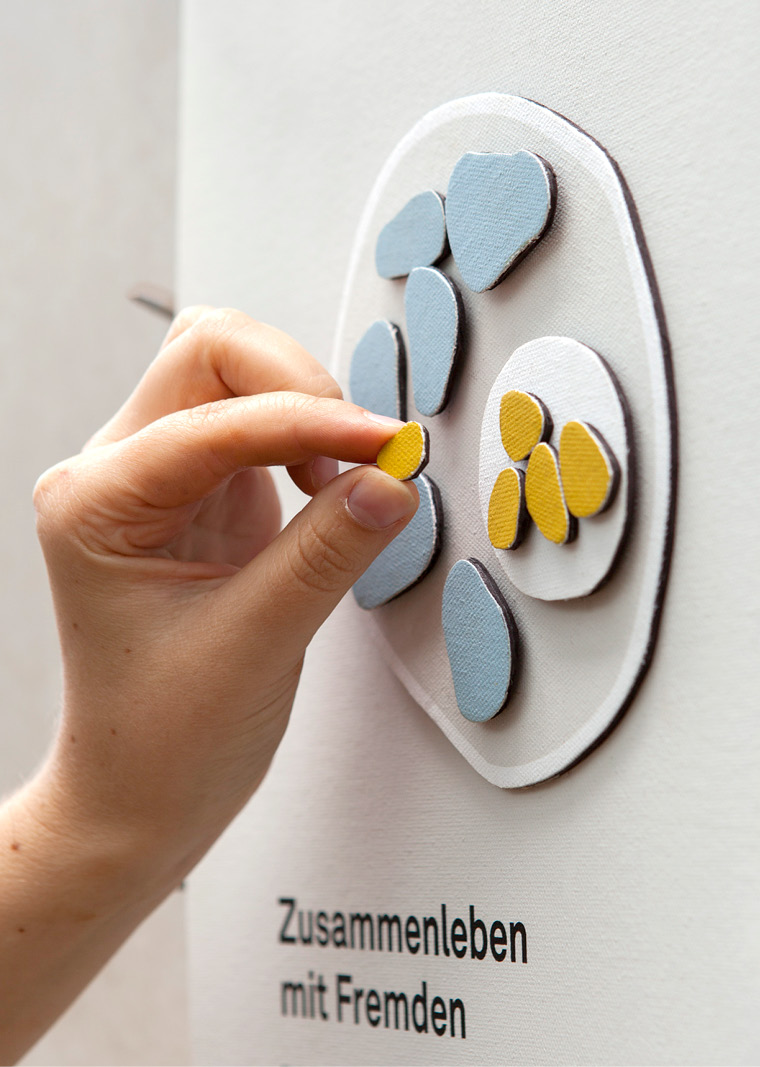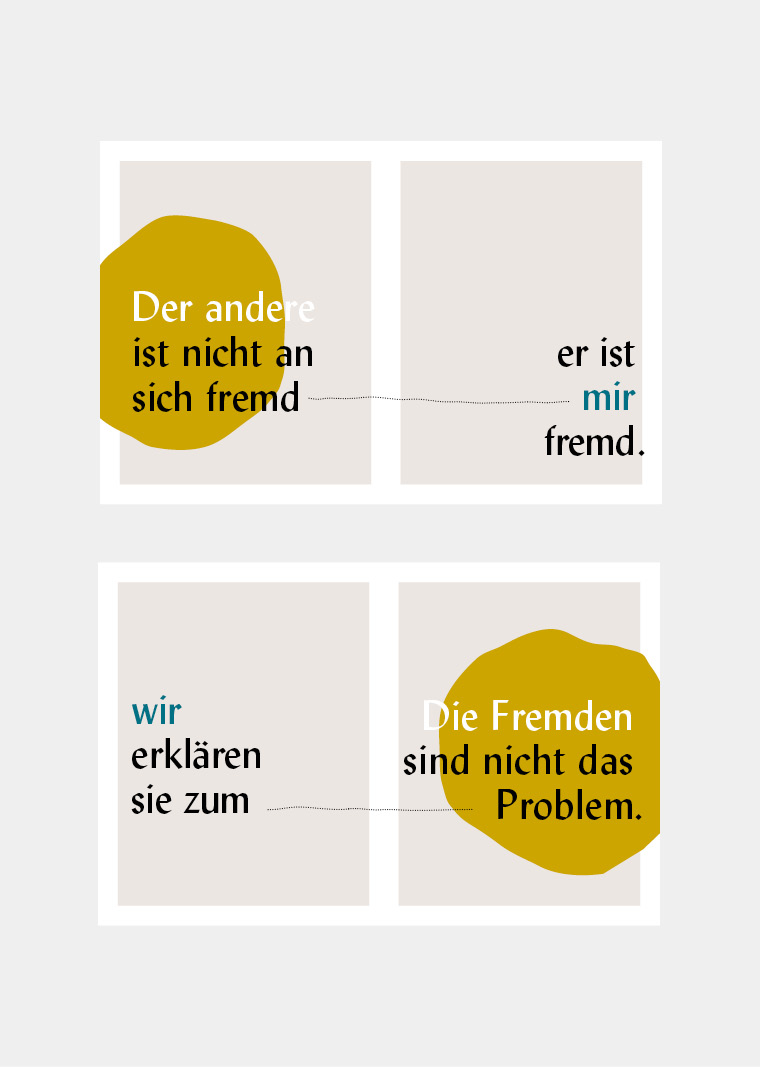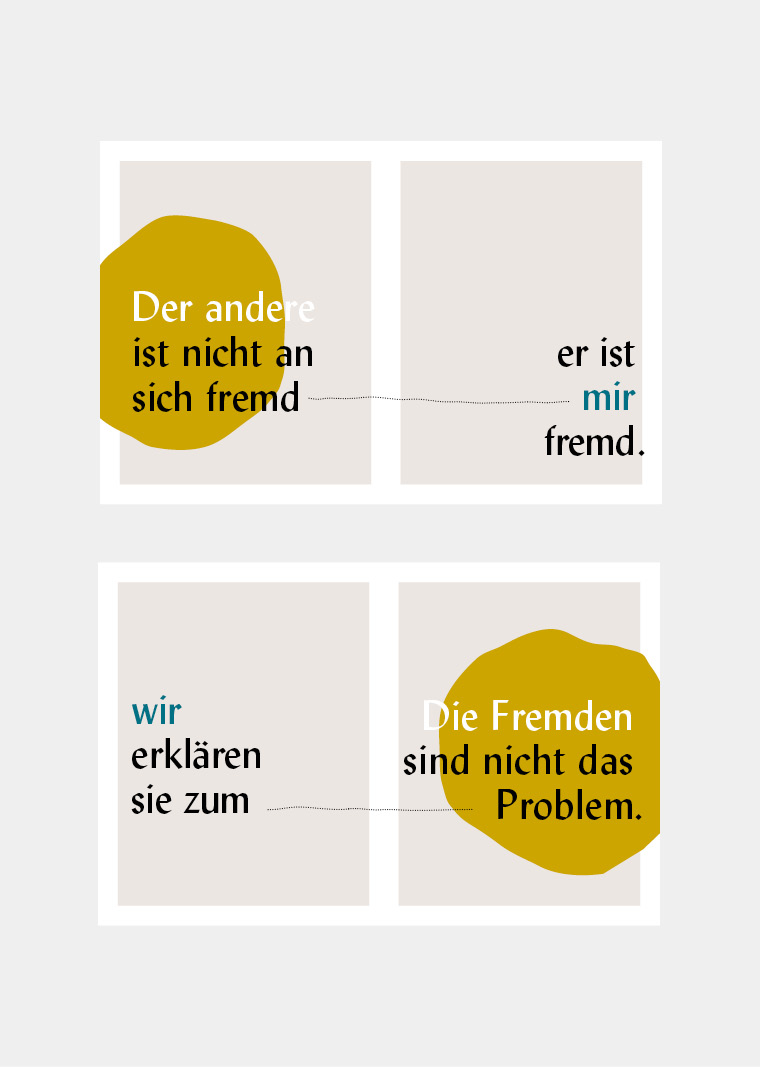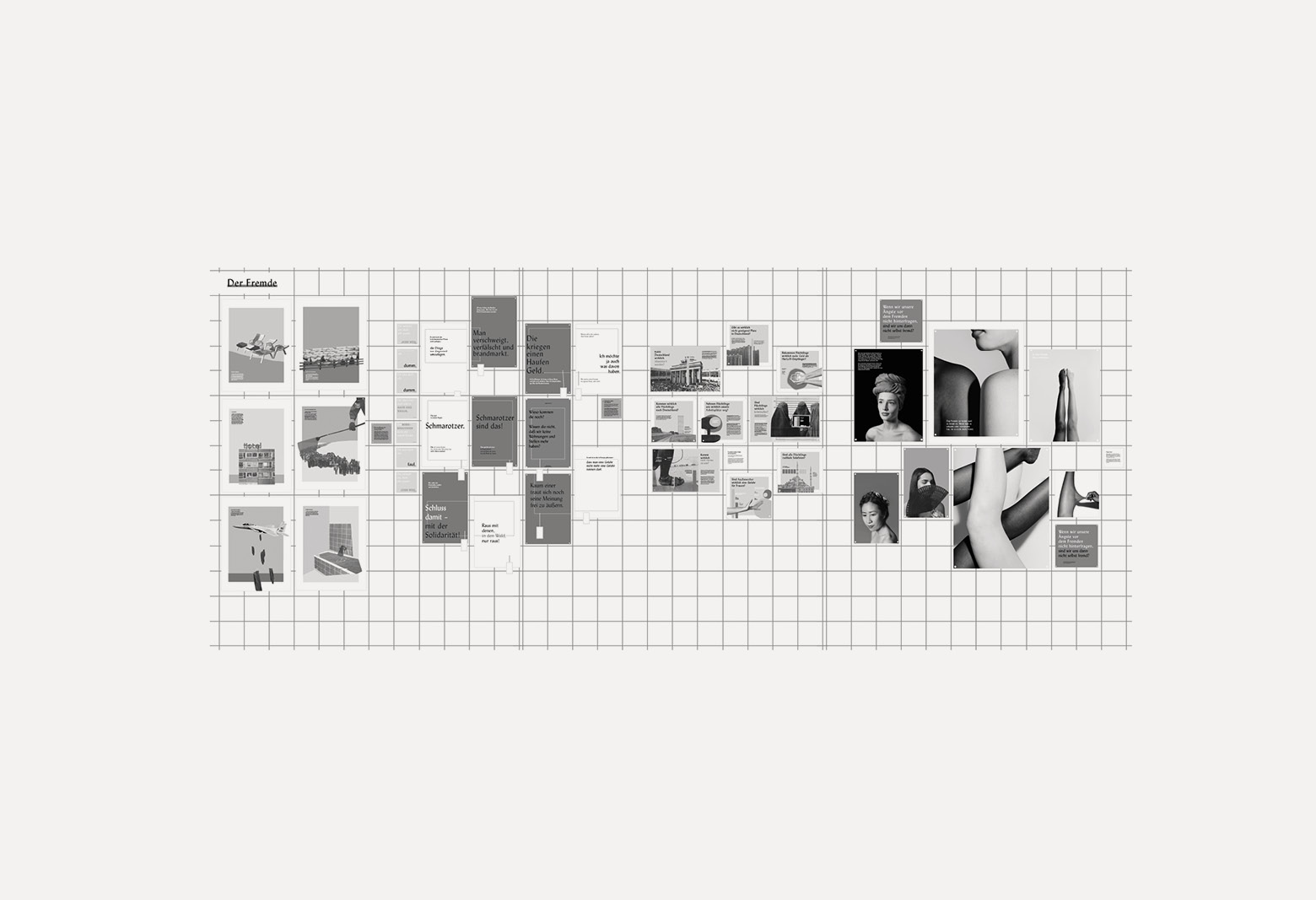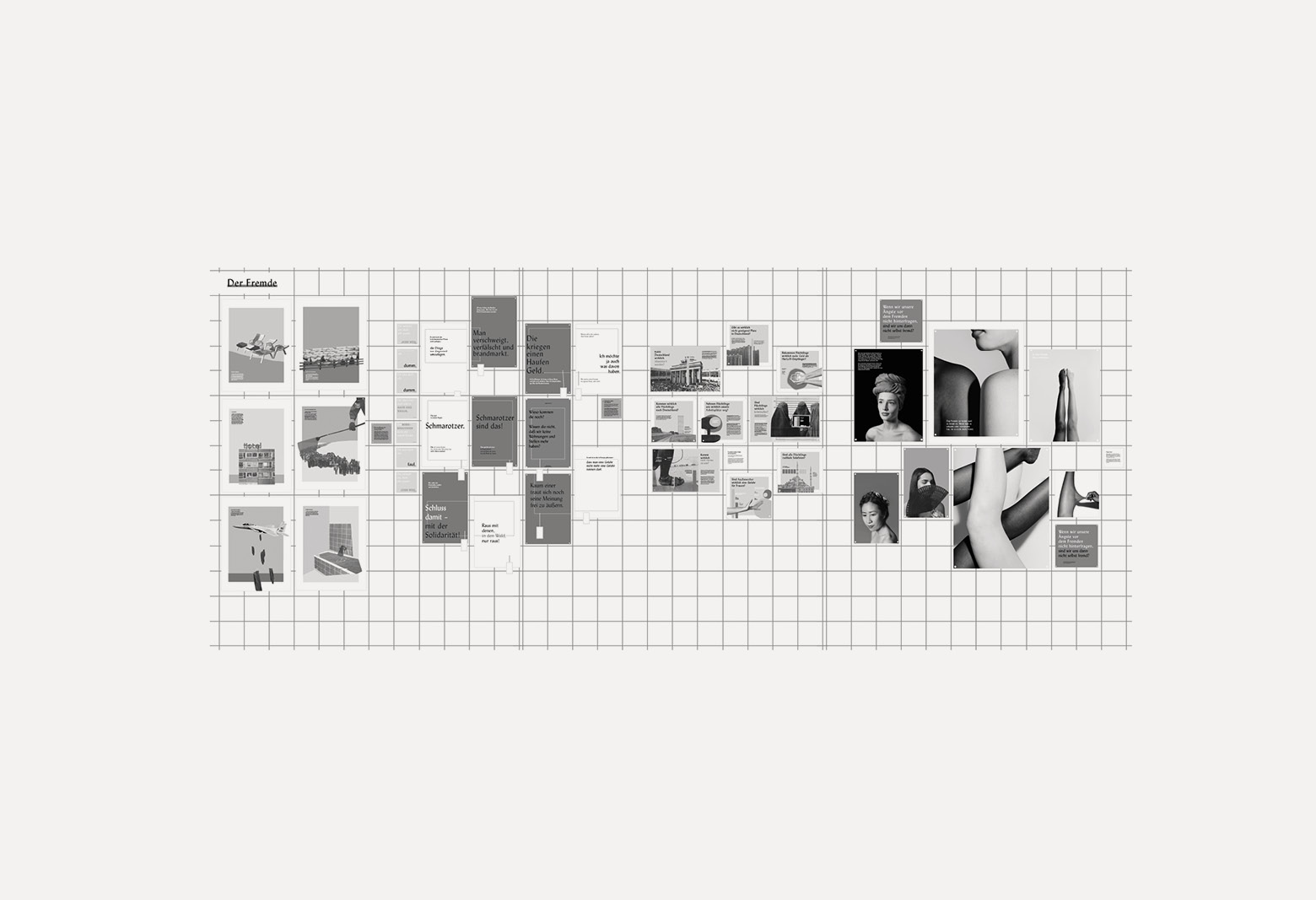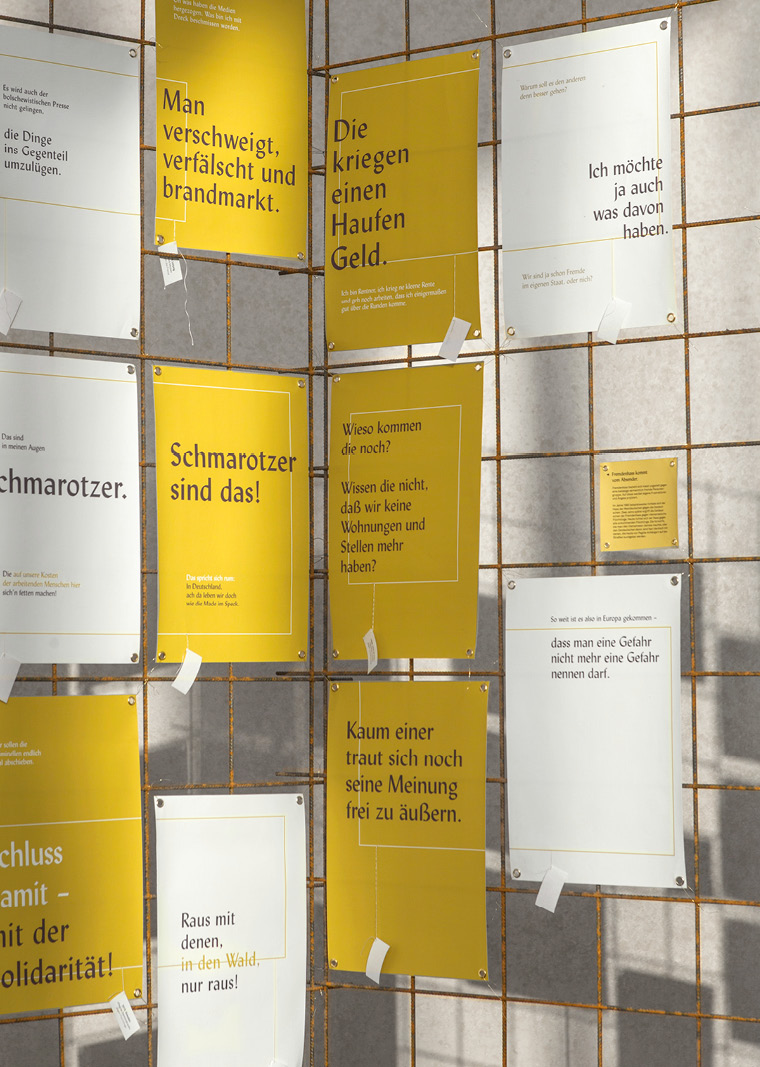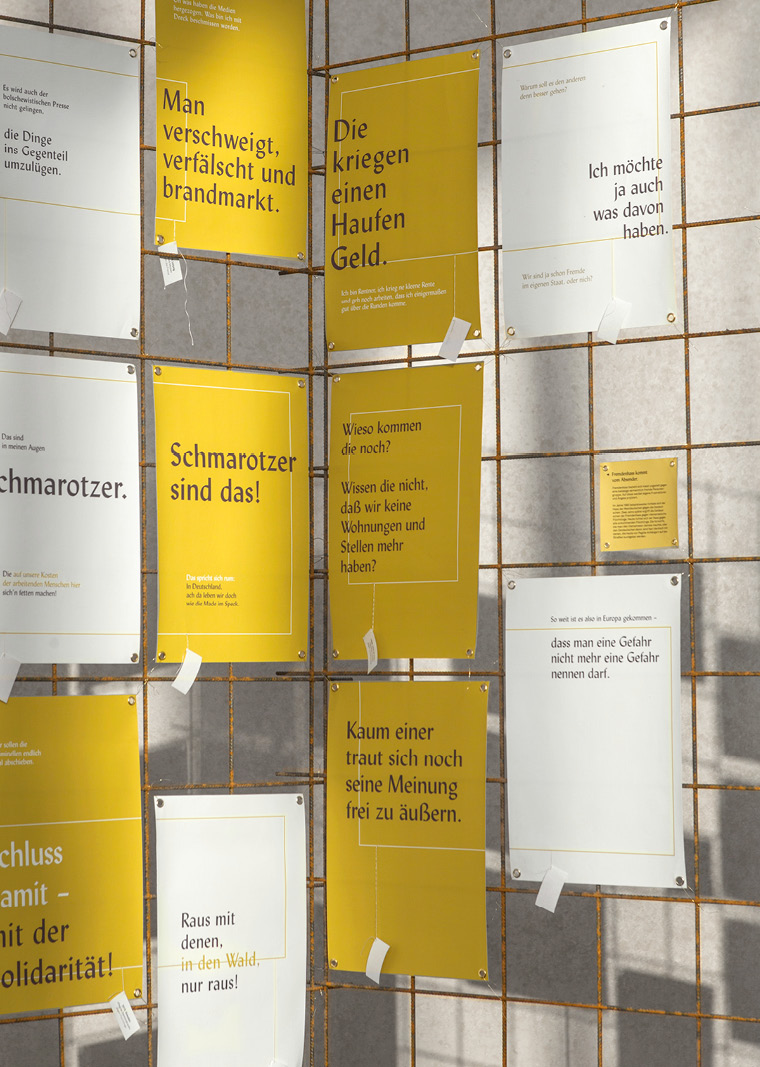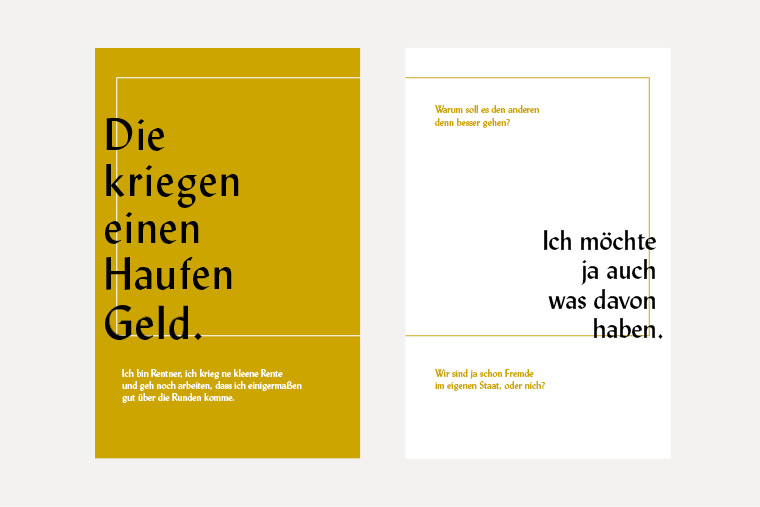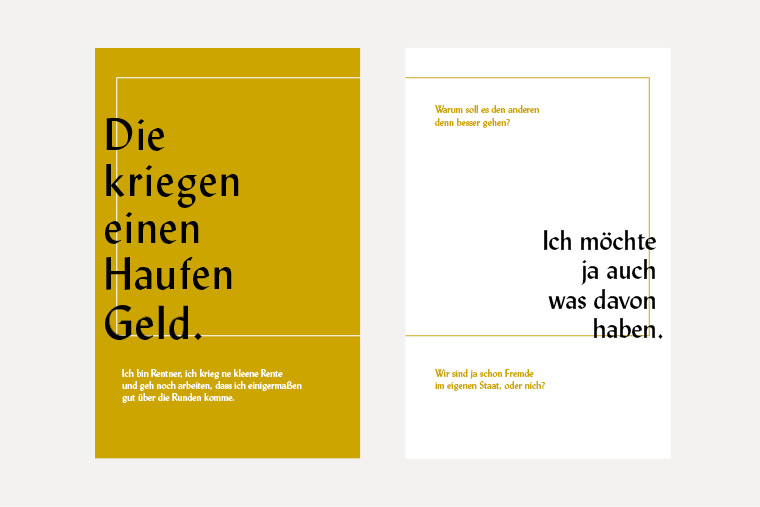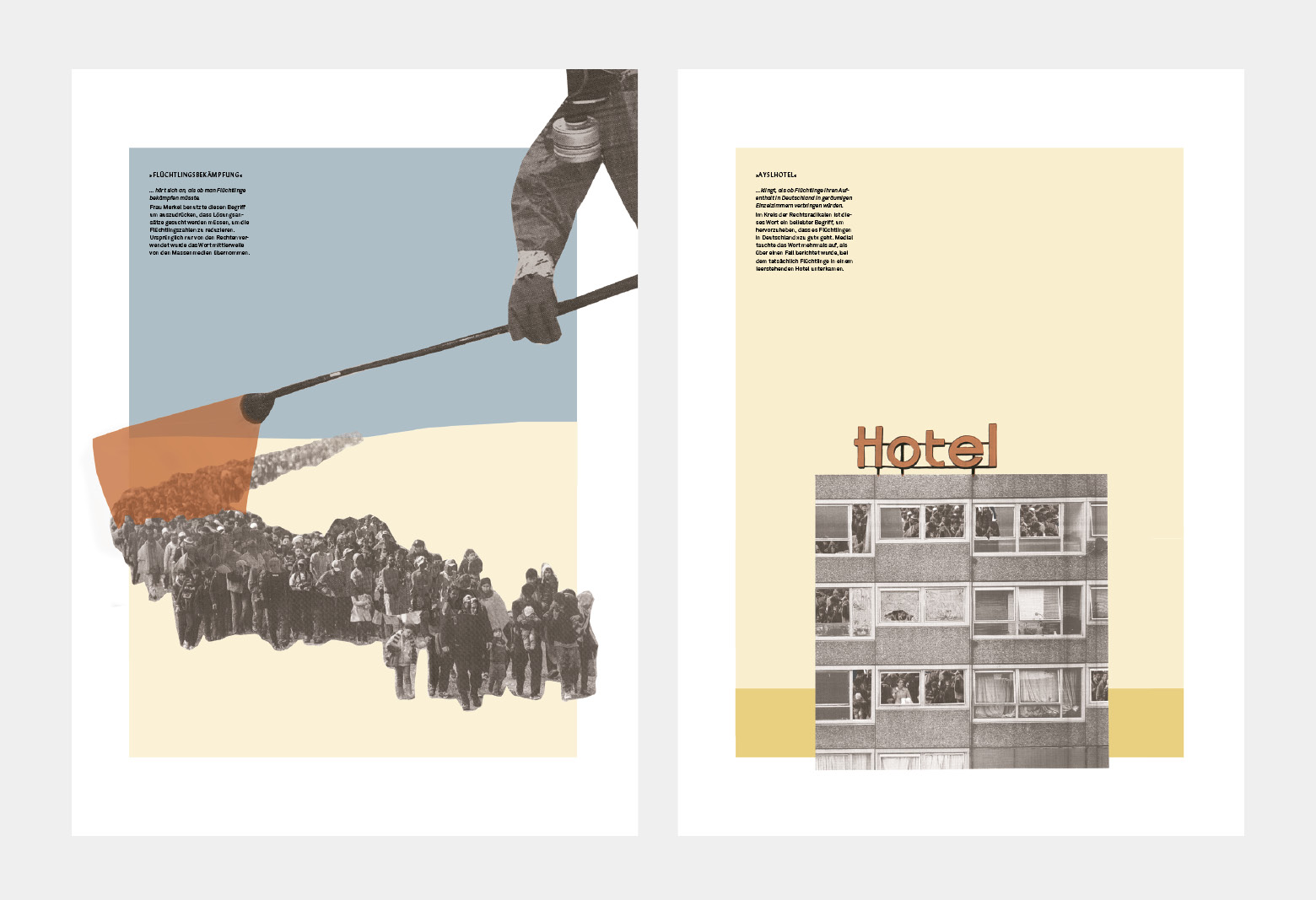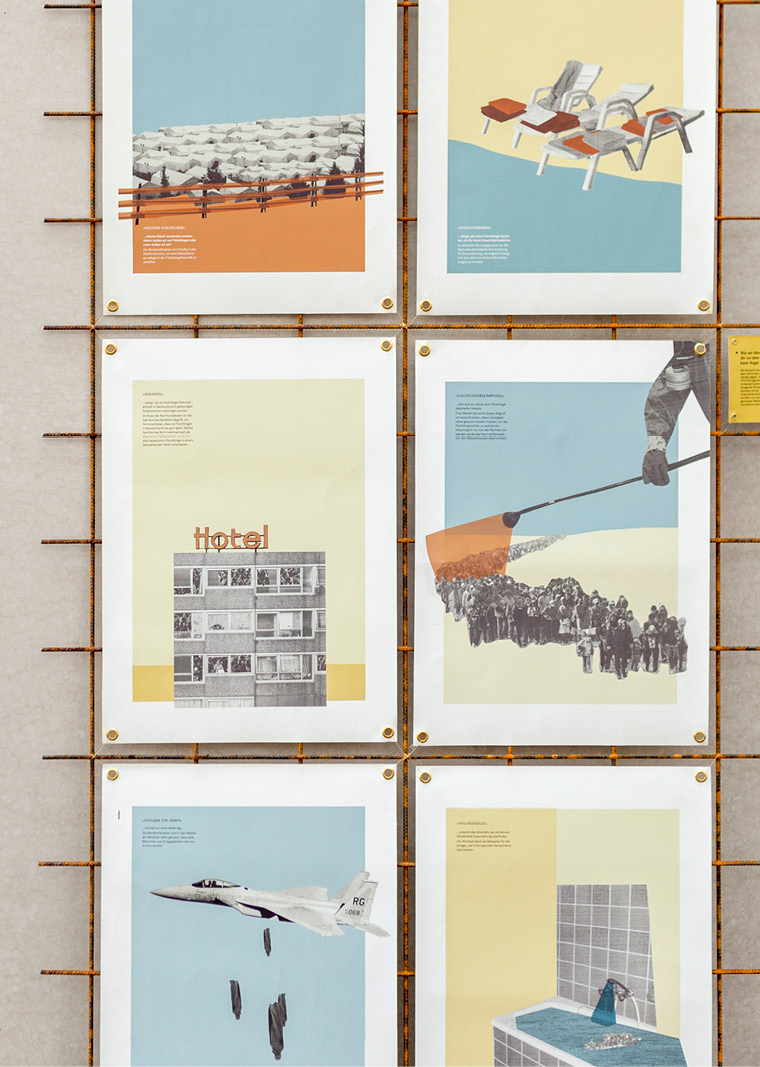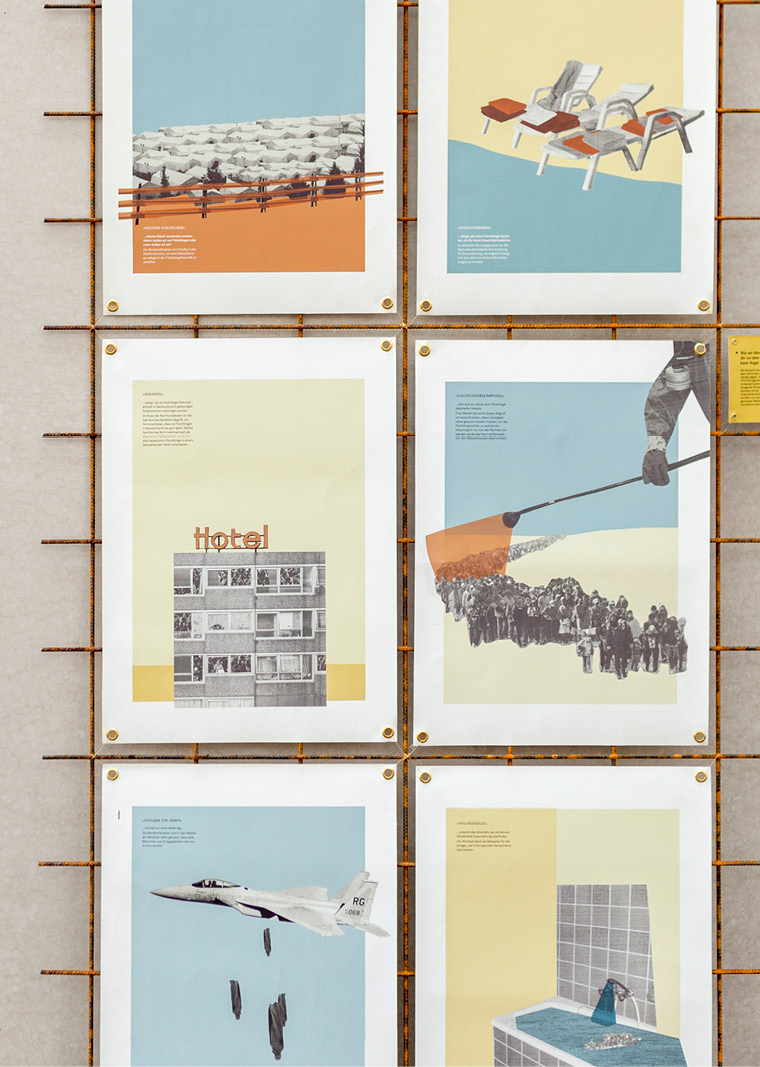 Die Sprache die wir täglich im Zusammenhang mit Fremden verwenden ist häufig übersteigert und negativ. Begriffe und Formulierungen, wie »Flüchtlingsbekämpfung«, »Asylhotel«, »Sozialtourismus«, »Ansturm der Armen«. Wir haben diese Wörter visualisiert um deren Bedeutung zu betonen.

–
The language we use, in the context if foreign people, is often exaggerated or negative. Pictures and Phrase like: »social tourism«, »asylum flood«, »asylum hotel«, »combat of refugees«. We tried to visualise these words, to emphasise their meaning.